Electron Accelerator Supplier
E-Beam sterilization

Electron Accelerator Supplier
E-Beam sterilization

ITOPP has developed an e-beam sterilization technology that can be integrated into a production line. This cost-effective technology requires no use of chemical products (EtO, H2O2). A quick and continuous process, it can be an alternative to gamma equipment and batch processing equipment. Moreover, its unique parameters allow for a high dose rate and low energy consumption.
E-beam system: electron beam sterilization process
The e-beam process consists of exposing the products to an electron beam accelerator. When the product is subjected to this type of (beta) radiation, the microorganisms within the product are eradicated. One of the consequences is the creation of single and double strand breaks in the DNA of those microorganisms; causing their death and thus leading to sterility.
Pulsed Electron beam sterilization processing: a technology based on pulsed power
For more than 20 years, ITOPP has been developing pulsed power systems (HPP). Pulsed power technologies consist of delivering an energy from a quasi-static source within a very short pulse duration thus generating extremely high powers. Based on this principle, ITOPP has developed pulsed electron beam sterilization equipment, which achieve very high-power electron beams at very high dose rates which can reach several hundreds of kGy per second.
Pulsed Electron beam sterilization processing offers many advantages
Operation in pulsed mode delivers the same amount of electrons as in continuous mode but much faster, which allows higher rates of treatment.
Treatment times are shorter, and depending on the complexity of the product, a Sterility Assurance Level (SAL) of 6 log can be reached in less than a quarter of second.
An in-house solution that fits into a production line.
ITOPP offers a turnkey solution which can integrate into a new or already existing production line. It is no longer necessary to use external contractors to decontaminate / sterilize products.
ON/OFF system which does not generate ionized radiation when the system is shutdown. The maintenance and service operations are easy and safe.
This ionizing radiation system does not generate any residues.
A solution tailored to the product
The electron beam exit window can be modulated according to the product and the configuration of the customer's production line. Such an adaptability enables a homogeneous electron beam from the outset.
Simulation and dosimetry expertise to support customers
ITOPP supports their clients in the definition of their electron beam sterilization equipment and provides them with highly effective simulation tools, a laboratory equipped with an e-beam machine, and a class 1 microbiological laboratory.
ITOPP teams have the essential tools and expertise to design an equipment by e-beam in order to help their customers in the development and the definition of the machinery parameters.
Simulation expertise:
Determining the energy required to pass through the thickness of the product as well as the energy required to meet the customer's specifications in terms of production rates.
Guaranteeing, with product dose mapping, that the minimum and maximum doses meet client expectations, regardless of the product complexity (use of the client's STEP files).
Radiation protection in order to size and design the self-shielding of the system and the safety of the customer's facilities in accordance with safety standards (NF C-15 160, NF C 15-164, NF C 74-100 and NF M 62-105).
Dosimetry expertise:
Conducting dosimetry studies to confirm that the minimum dose is reached on all surfaces of the product to be treated and to guarantee the expected sterility assurance level (SAL).
A solution adapted to every type of product
A solution available on a wide range of energy
Each product has its own specificity and complexity. In order to offer reliable and efficient equipment adapted to each product, ITOPP provides solutions operating on a wide range of energy:  from 50 keV to 800 keV. 
A solution that integrates into a production line
ITOPP designs complete pulsed e-beam sterilization units according to customer specifications, including conveyors and shielding, which can be integrated into a production line with consideration to space constraints.
Main characteristics
Integrated into our client's production line
High rates of repetition: up to 60K units/hour
Dry procedure, no consumables or residues
ON/OFF system
High performance: eliminates Bacillus pumilus spores.
A wide array of products can be treated by the technology:
Medical devices
Pharmaceutical products
Cosmetic products
 Food and drink packaging
ITOPP provides their clients with highly effective simulation tools, a laboratory equipped with an ebeam machine, a class 1 microbiological laboratory and much more!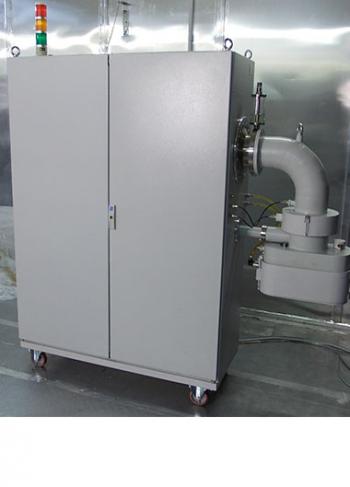 Publications for additional information
Next exhibition Sterilization